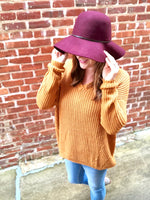 Fall in the south can be hard on the heart! We dream up and create Pinterest boards leading up to the season filled with pumpkin spice, bonfires, and comfy, cozy sweaters....only to have it tease us for weeks (or months). By the time the first glimpse of fall-like weather rolls around, we are so ready for it and find ourselves overdoing it just a bit. Is anyone else guilty of dressing completely fall...head to toe...sweaters, boots, hats...only to jump in your car with the a/c blasting because you are miserably hot?! 
Well, now that fall temps are finally here, we can wear (and enjoy) all of those cute new fall purchases...comfortably all day! Praise! 
Relaxed, oversized sweaters and cardigans are just a couple of my favorite fall things! I love the coziness! And the trending colors for the season are on point! I've always been a fan of anything in the caramel to mustard family and it's everywhere right now!! It's easy to accessorize because it can be paired and accented with so many colors. 
We have new arrivals rolling in daily! Check back regularly so you don't miss out on your new favorite piece!